Banffshire & Buchan Coast MSP
Stewart Stevenson
has given his backing to WWF's Earth Hour and has urged local residents, businesses and organisations to do the same by switching off on Saturday 31
st
March.
From 8:30 on 31 March, millions of people around the world will turn their lights off for 60 minutes to demonstrate their support for action against the impact of climate change on people and wildlife across the world.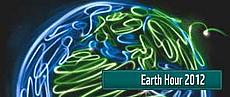 This year, in addition to the lights going out at iconic Scottish locations, including Edinburgh Castle, WWF is encouraging community groups and local organisations to join in the fun.
Ideas for celebrating include: star-gazing, torch-lit nature walks,candle-lit suppers or pub-quizzes and even games of golf in the dark. To register for this year's event please visit:
www.wwfscotland.org.uk/earthhour

Commenting, Mr Stevenson said:


"Scotland has been at the forefront of the fight against climate change, with targets for carbon emission reductions that are world-leading. Yet if we are to tackle this problem we need people from all parts of the world to follow this example which is why WWF's Earth Hour is so important.


"By coming together to signal our determination to tackle climate change through millions of people turning off their lights for an hour, hopefully we can inspire more countries around the world to take the action needed to address the problem.


"It is often the poorest countries that will suffer the biggest effects of climate change, which is why just this week the Scottish Government confirmed that we will launch a Climate Justice Fund to help the least developed countries adapt to the effects of climate change.


"I am proud of Scotland's efforts on tackling climate change and I hope that many people in Banffshire & Buchan Coast will switch off on the 31st of March to show their support for tackling this global problem."


"WWF's Earth Hour is a simple way for people to show their support for strong action on climate change. MSPs are leaders in their communities and their support is very welcome.


"It's reassuring that climate change remains on the political agenda here in Scotland, with the local council elections just round the corner. As well as politicians, business and local authorities, we hope lots of individuals and community groups feel inspired to take part too."